New Pathways to Health and Opportunity

New Pathways is collaborative partnership between Aaron E. Henry Community Health Services Center, Inc., The Rogosin Institute's Dreyfus Health Foundation Division, Mississippi Hospital Association Foundation, Tri-County Workforce Alliance, and University of Mississippi Center for Population Studies that is partially supported by the W.K. Kellogg Foundation with the goal of promoting Workforce Development and Economic Opportunity in the Mississippi Delta.
New Pathways is based in Sunflower County and the surrounding counties of Bolivar, Coahoma, Quitman, and Tallahatchie, in the heart of the Delta region of Mississippi. New Pathways program participants reside in all five counties. Over 30 community partners, including schools, community colleges, universities, hospitals, clinics, and community-based organizations, work with the core partners and engage in its programming.
New Pathways programs offer health careers training and exposure to youth and young adults, school health councils, allied health professionals trainings, Dedicated Education Units, nurse externships, and Community Health Worker trainings. Additional programs emphasize connecting career exposure and workforce development programs to employers and job opportunities. All components draw from the practice-based experiences of the network members and are rooted in evaluative research.
In October, 2017, W. K. Kellogg Foundation awarded a three-year grant to fund the New Pathways' initiative to build the Delta's health workforce. Read the press release.
In 2018, Tri-County Workforce Alliance (TCWA), a New Pathways partner organization, was recognized as Non-Profit of the Year by the Community Foundation of Northwest Mississippi.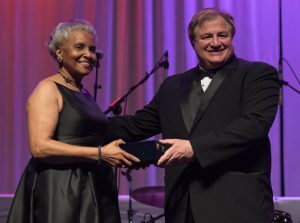 Josephine Rhymes, TCWA's director since 1997, accepted the award at the Foundation's Crystal Ball held January 20, 2018, from Joe Azar, Community Foundation board member.