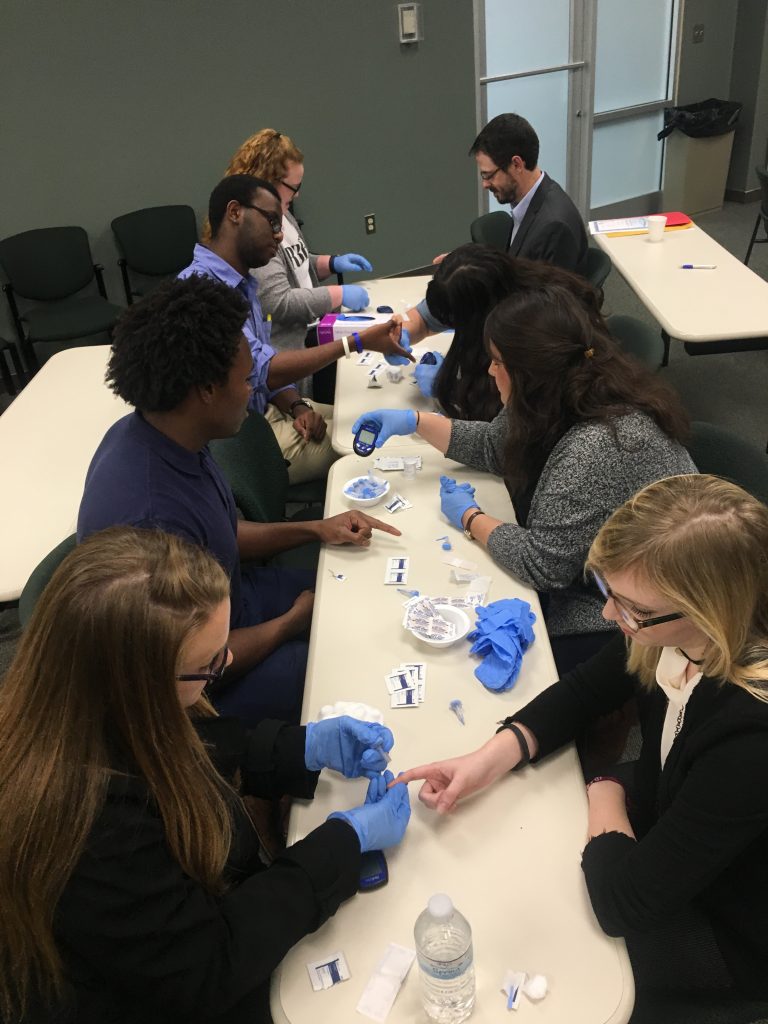 On March 9, 2017, students enrolled in the Society and Population Health (SOC 370) course at the University of Mississippi traveled to Jackson, MS, to participate in the University of Mississippi Medical Center's (UMMC) Community Health Advocate (CHA) Training Program. Originally created to train faith-based and community groups, the CHA Program seeks to establish partnerships with community members who are concerned about the health status of all Mississippians. Community Health Advocates are trained as health screeners, advocates, and health system navigators. The CHA Program teaches its participants to measure blood pressure, blood sugar level, and body mass index (BMI) and where to direct individuals with abnormal measurements. The CHA Program is staffed by volunteer trainers from UMMC and other health professionals. The training was organized by Tammy Dempsey, Director of the Office for Community Engagement and Service Learning at UMMC.
As part of the CHA program, Dr. Alan Penman trained students on blood pressure levels and how to operate a blood pressure monitor. Dr. Lisa Haynie instructed students on proper glucose levels and how to perform a glucose reading using a glucometer and a single drop of blood. Dr. Josie Bidwell informed students about how to record measurements needed to determine an individual's BMI. She also led the discussion about dietary needs and nutrition. Now that these students are CHA certified, they are able to volunteer as health screeners at community events such as health fairs and outreach programs.
As part of the community engagement opportunity, students attended two panels organized by Dempsey. With the theme of the day "Bloom Where You Are Planted," she hoped to encourage students to become future healthcare providers in Mississippi. The first panel was comprised of practitioners from local community-based clinics, including the Jackson Free Clinic, the Mississippi AIDS Education and Training Center, and the UMMC Mobile Clinics. Panelists informed the students about the work they do and the services they offer in the community. The second panel was composed of members from various departments of the UMMC admissions offices, including representatives from the Office of Student Financial Aid and the Rural Physicians and Dentists Scholarship Programs. Students could ask questions about the necessary steps for admissions to the different schools and health professions.
The Society and Population Health course centers around human population health, helping students to broaden their understanding of complex health problems through multidisciplinary perspectives. Dr. John Green, Professor of Sociology and Director of the Center for Population Studies, is the Director of the new Liberal Arts minor, Society and Health (SOHE). As part of the SOC 370 coursework, students participate in community engagement opportunities in order to meet and learn from various practitioners. Having the students participate in events such as the CHA training session helps them develop knowledge and skills for community engagement and exposes them to the various factors contributing to one's health and wellbeing. Many of the students enrolled in this course are hoping to pursue the new SOHE minor, which focuses on the socioeconomic, cultural, and psychological factors associated with human health at multiple levels of society, coupled with implications for ethical healthcare practice and policy. Students will develop an interdisciplinary social science and humanities-based approach to understanding health and an appreciation for the value of interprofessional, team-based problem solving to improve healthcare and health outcomes. For more information about the SOHE minor, visit sohe.olemiss.edu.